Building my new Gaming PC for 2022 (High-end)
Watch this trending video about the Best Building my new Gaming PC for 2022 (High-end)
Building my new Gaming PC for 2022 (High-end)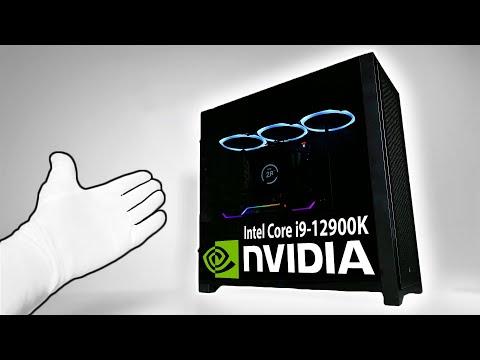 Get your Displates here: https://displate.com/relaxing/?art=5f0865167a5b6. Thanks Displate for sponsoring the video. 1-2 23% 3+ 29% off for a limited time.
Unboxing and building my new Windows 11 gaming PC for 2022. Intel Core i9-12900K 12th Gen processor, Nvidia GeForce RTX 3090 graphics card, 32GB of DDR5 RAM, 8TB M.2 SSD and 1300W PSU. Minecraft RTX, Among Us, Peppa Pig, Fortnite, PUBG, Grand Theft Auto V, GTA: San Andreas, Forza Horizon 5, Call of Duty Black Ops 2, Black Ops 3, Flight Simulator, Cyberpunk 2077 and Battlefield 2042 gameplay.
Fake PS5 unboxing https://youtu.be/Ur-bITIVeBY
iPhone 13 Pro Max unboxing https://youtu.be/Q3rEztd4Ym0
Nintendo Switch OLED unboxing https://youtu.be/EiT6kP50YsI
All unboxing videos https://www.youtube.com/playlist?list=PLo2sxVnbrTqCxdu55pSRUEQhplewUYE7T
Click to Subscribe! http://tinyurl.com/klfpd64
Become a member https://www.youtube.com/c/TheRelaxingEnd/join
Second Channel http://www.youtube.com/VeryRelaxing
Twitter https://twitter.com/TheRelaxingEnd
Instagram https://www.instagram.com/mrelaxing
Livestream https://www.twitch.tv/therelaxingend
Facebook https://www.facebook.com/TheRelaxingEnd
PC specs
CPU: Intel Core i9-12900K
GPU: Nvidia GeForce RTX 3090 Suprim X
Motherboard: ROG Maximus Z690 Hero
RAM: 32GB Asus DDR5 4800MHz "ghetto ram" (will replace later)
SSD: 8TB Corsair MP400 M.2 Gen3
SSD: 8TB Samsung 870 QVO Sata 2.5″
SSD: 2TB WD_Black SN850 M.2 Gen4
CPU liquid-cooler: NZXT Kraken Z73 RGB 360mm
PSU: Seasonic PRIME 1300W Platinum
Case: Corsair 5000D Airflow
Monitor: MSI Optix MPG321UR-QD
Mouse: Doraemon
Keyboard: Doraemon
Special thanks to my PC building assistant for coming to help building the computer!
00:00 Intro
00:13 Opening tool
00:21 CPU
00:47 Motherboard
01:21 Sponsor
02:29 GPU
03:04 RAM
03:27 SSD
04:09 CPU liquid-cooler
04:48 Fans
04:59 PSU
05:24 Case
06:06 Building the PC
11:11 Peeling the PC
11:20 Power [ON]
11:53 Sponsor
12:08 Mouse & keyboard
12:41 Windows 11
13:08 Peppa Pig
13:39 Minecraft Java
14:27 Minecraft RTX
14:55 Among Us
15:07 Doom II
15:23 Fortnite
15:48 Halo Infinite
16:31 GTA: San Andreas Definite Edition
17:04 Grand Theft Auto V
17:22 PUBG Battlegrounds
17:49 CS:GO
18:11 Black Ops 2
19:13 Black Ops 3
19:33 Black Ops CW
20:27 Call of Duty Warzone
20:49 Battlefield 2042
21:20 Call of Duty Vanguard
21:38 Cyberpunk 2077
22:14 Resident Evil 2
22:45 Red Dead Redemption 2
23:11 Valorant (error)
23:17 League of Legends
23:35 Forza Horizon 5
23:53 Genshin Impact
24:17 Flight Simulator
24:36 Final Fantasy VII Remake
25:12 Journey
25:51 Outro
#GamingPC #BuildingPC #TheRelaxingEnd
If you found this tip helpful, please share the Unboxing Review of Building my new Gaming PC for 2022 (High-end) video on Pinterest…

best gaming desktop unboxing Alternatives
#1 Best Seller
OMEN - GT13-0090 30L Gaming Desktop PC, NVIDIA GeForce RTX 3090 Graphics Card, 10th Generation Intel Core i9-10850K Processor, 32 GB RAM, 1 TB SSD, Windows 10 Home (GT13-0090, 2020) Shadow black
FREE UPGRADE TO WINDOWS 11 (1) (when available, see below)
ULTIMATE GAMING – The GeForce RTX 3090 delivers the ultra-performance that gamers crave, powered by Ampere—NVIDIA's 2nd gen RTX architecture; with 24 GB GDDR6X dedicated memory, your 4k gaming experience will never look smoother
MAKE IT YOURS – Let your desktop reflect your style with easy to upgrade hardware and OMEN Command Center's growing list of customization and optimization features
POWERFUL PROCESSOR – Game, stream, create, and edit multimedia content faster than ever with 10th Generation Intel Core i9-10850K processor with liquid cooling
BOOST YOUR PERFORMANCE – Get up to 10x faster performance than a traditional hard drive with 1 TB of PCIe NVMe M.2 SSD storage
#2 Best Seller
Alienware Aurora R14 Liquid Cooled Gaming Desktop - AMD Ryzen 9 5900, 32GB 3466MHz RAM, 1TB SDD + 2TB HDD, NVIDIA GeForce RTX 3080 10GB GDDR6X Graphics, VR Ready, USB-C, Windows 11 Home – Black
POWERFUL PERFORMANCE: The Alienware Aurora R14 Ryzen Edition Gaming Desktop PC was designed to empower gamers seeking computer and graphics horsepower with 12-core AMD Ryzen processors
NO WORLD IS TOO BIG: Power through your favorite games or edit your favorite maps seamlessly with 32GB 3466Mhz XMP overclockable DDR4 memory
THE LATEST TECH: PCI-Express 4.0 provides graphics, storage drives and networking adapters greater bandwidth so that every component in this gaming desktop performs at their highest level
UPGRADED CHASSIS: A new chassis based on the Legend Industrial Design allows for liquid cooling and efficient airflow to reduce CPU temperatures with whisper-quiet operation
PREMIUM SUPPORT: We've made it easy to move all the good stuff over to your new PC, with 6 months of Dell Migrate
Save $500.00
#3 Best Seller
SkyTech Archangel 3.0 Gaming Computer PC Desktop - Ryzen 5 3600 6-Core 3.6GHz, RTX 3060 12GB, 1TB SSD, 16GB DDR4 3200, RGB Fans, AC WiFi, 600W Gold PSU, Windows 10 Home 64-bit, White
✔ AMD Ryzen 5 3600 6-Core 3.6 GHz (4.2 GHz Turbo) CPU Processor | 1TB SSD
✔ GeForce RTX 3060 12GB GDDR6 Graphics Card (Brand May Vary) | 16GB DDR4 3200MHz Gaming Memory with Heat Spreaders | Windows 10 Home 64-bit
✔ 802.11AC | No Bloatware | Graphic output options include 1 x HDMI, and 1 x Display Port Guranteed, Additional Ports may vary | USB Ports Including 2.0, 3.0, and 3.2 Gen1 Ports | HD Audio and Mic | Free Gaming Keyboard and Mouse
✔ Heatsink & 3 x RGB Fans | Powered by 80 Plus Gold Certified 600 Watt Power Supply | Skytech Archangel 3.0 Gaming Case with Tempered Glass – White
✔ 1 Year Warranty on Parts and Labor | Lifetime Free Technical Support | Assembled in the USA | This powerful gaming PC is capable of running all your favorite games such as World of Warcraft, League of Legends, Grand Theft Auto V, Apex Legends, Fortnite, Roblox, PLAYERUNKNOWN's Battlegrounds, Overwatch, Counter-Strike: Global Offensive, Battlefield V, Minecraft, The Division 2, and more at High to Ultra settings, crisp 1440p Full HD resolution and smooth 60+ FPS game play.
Did you like this unboxing tutorial? Watch more exciting best gaming desktop unboxing review guides…
Ads updated on 2023-03-28 at 01:42.