KEF LS50 Wireless Speakers Unboxing and Review!
Check out this awesome video about the best KEF LS50 Wireless Speakers Unboxing and Review!
References: KEF LS50 Wireless Speakers Unboxing and Review!
KEF LS50 Wireless Speakers Unboxing and Review!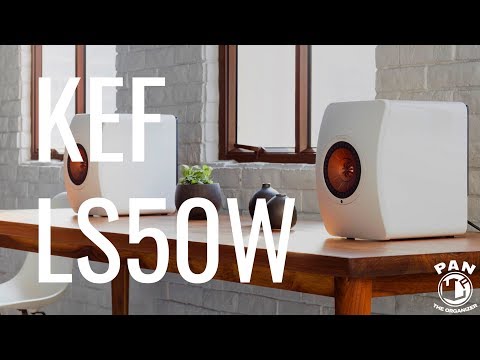 KEF LS50W wireless speaker system unboxing and review! INSANE SOUND QUALITY! In this video, I will be doing the unboxing and review of the new KEF LS50W active music system. It's a fully active sound system, meaning that the speakers connect wirelessly to any mobile device through WiFi or Bluetooth. KEF's main objective with these speakers was to create a great sounding and simple to use system so you can have fun listening to music.
►Here are the links to purchase the products presented in the video:
►USA buyers:
KEF LS50W wireless speakers: https://amzn.to/2LaEju6
KEF Performance Speaker Stands: https://amzn.to/2LcHAci
►Canada buyers: https://amzn.to/2TZgHNi
►UK buyers: http://uk.kef.com
►France buyers:
Enceintes sans-fil KEF LS50W (blanc ou argent): https://amzn.to/2k7rRPm
Enceintes sans-fil KEF LS50W (couleur noire): https://amzn.to/2GrR7IW
EASY TO USE. Much of the beauty of the KEF LS50 Wireless lies in the system's simplicity. These are truly plug-and-play! After you've unboxed the speakers, you can quickly start enjoying your music. Once you've connected both speakers to your mains, and then to each other, it's simply a case of downloading the KEF LS50 Wireless app (iOS/Android).  The app easily facilitates network setup, music streaming, playback and DSP control.
FLEXIBLE CONNECTIVITY. You can connect pretty much any music source of your choice to enjoy excellent music reproduction thanks to: Wi-Fi, Bluetooth 4.0 aptX, asynchronous USB Type B, Toslink Optical, RCA-type line-level analogue inputs, Tidal, Spotify Connect and Roon.
GREAT DSP. Once discoverable in the app, you can then tap into the speakers to tailor their sound to your room and tastes, or do your adjustments at the back of the speakers where you'll find the DSP controls.
AWESOME SOUND QUALITY. The speakers are powered by audiophile-grade built-in amplifiers and sound processing. It's a complete fully active system including a streaming pre-amp, a dedicated DAC and DSP for each channel, powered by a 230 Watts per channel bi-amp The driver itself features KEF's Uni-Q technology, meaning that the 1-inch tweeter is in the center of the 5.25-inch bass and midrange woofer ensuring that every note arrives at your ears at exactly the right time. This type of driver is called a coincidence driver because the tweeter is located in the acoustical point of the midrange for a true point source, meaning that the sound ripples out into your room evenly. This, claims KEF, allows the speakers to offer a tighter stereo imaging as well as a wider, three-dimensional soundstage no matter where you're sitting.  Bye bye sweet spot.
These speakers made me want to revisit old music albums that I hadn't listened to in a while, just to rediscover songs. The LS50W's make you feel the rhythm and enjoy listening to music.  For a set of compact bookshelf speakers, they have no issues filling my medium-sized room.  As far as balance is concerned, these speakers offer a neutral sound, with a crystal-clear mid-range, a rich and controlled bass, and a clear and open treble. I found these speakers to work great with any genre of music.
KEF IS A TIER 1 MANUFACTURER. Everything is designed, engineered and built in house. Nothing is outsourced. This leads to great build quality, superb aesthetics and a great music listening experience.
In the box, you get:
– LS50W System (Right: Master speaker; Left: Slave speaker)
– 2m Power cord x 2
– 3m Cat-6 Inter-speaker cable x1
– 2m USB cable x1
– 1m LAN cable x1
– Matching Remote Control
– Quick Start Guide
– Safety and Warranty Card
Summary:
Pros:
Superb sound quality, great bass response, tons of inputs, versatility for wired and wireless configurations, beautiful compact and minimalistic design, excellent build quality.
 
Cons:
Basic remote, no AirPlay or Google Cast
►For more details, visit the official KEF website:
In USA: https://www.kefdirect.com
In Canada: https://www.kefstore.ca
International: http://international.kef.com
►Full disclosure: I was not paid by KEF to produce this video, they did however provide the speakers for me to review. However, I made sure that the opinions expressed in my video are my own and the company had no influence on my content.
Welcome to Pan TheOrganizer, a Youtube channel designed to help people improve different aspects of their lives through fun and entertaining videos!
If you liked this video and found it helpful, click on the thumbs up button and share the video with your friends and family. Don't forget to click the SUBSCRIBE button if you want to keep on enjoying my future videos. Welcome to the Pan TheOrganizer family!!
►List of equipment I use to produce my Youtube videos: https://youtu.be/5Ws-1BXhrFk
►You can also follow on social media:
Facebook: Pandelis Moschopoulos
Instagram: @pantheorganizer
Twitter: @PanTheOrganizer
Snapchat: PanTheOrganizer
Music by Hurley Mower
https://soundcloud.com/nedmowermusic
If you found this lesson helpful, please share the KEF LS50 Wireless Speakers Unboxing and Review! video on Twitter…